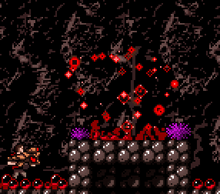 Description
Edit
Most enemies and all bosses in Axiom Verge leave behind red sparkling health restoring particles when destroyed or killed.  The amount left behind is equivalent to the hit points that enemy had. Each particle contains either 2 or 8 health points.
Most enemies have a 15% chance of dropping health when destroyed. Those that differ are noted in the infobox on their page.
When Trace is close, the health particles float toward him and are absorbed.
Trace's maximum health can be increased by 100 by collecting Health Nodes (these will also restore his health) or 5 Health Node Fragments. Trace starts with 200 health. By collecting all the Health Nodes and Health Node Fragments possible in the game (including those in the 5 Secret Worlds), Trace can have a total of 1600 health.
Ad blocker interference detected!
Wikia is a free-to-use site that makes money from advertising. We have a modified experience for viewers using ad blockers

Wikia is not accessible if you've made further modifications. Remove the custom ad blocker rule(s) and the page will load as expected.